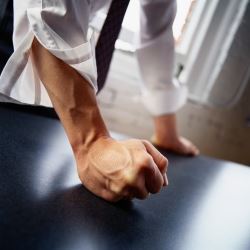 When your rights are on the line and you are facing serious criminal charges, it is important to have someone on your side who understands the complex situation at hand. While there are many criminal defense lawyers out there, not everybody has a full understanding of the trial process. At MayesTelles PLLC, our team is compiled of experienced and tenacious Phoenix criminal defense lawyers, but we also have five attorneys who have served as former prosecutors. This is insight that sets our firm apart from others.
The former prosecutors on our staff include:
David V. Telles (Maricopa County Attorney's Office)
Melanie Laboy (Maricopa County Attorney's Office)
Paula Dixon (City of Scottsdale Prosecutor's Office)
David Lish (Assistant City Prosecutor for the City of Scottsdale)
Claudia Horan (Rule 38 Prosecutor — Maricopa County Attorney's Office)
With a former prosecutor on your side, you have unique insight into how the other side thinks and how they approach cases. We understand the various tactics the prosecution uses and how they utilize evidence in criminal cases. By having this specific knowledge, we are better able to assist our clients, working to counter any charge they bring forward against you.
Aside from just handling cases as prosecutors, some of our lawyers have tried serious and major felony cases. This means no matter how complex your case may seem, we have most likely seen it or something similar before and know how to handle your situation. It gives us an advantage that not many attorneys can offer clients because they focus exclusively on one side of the case rather than thinking about the other side's approach.
If you are looking for a strong defense against criminal charges, our team at MayesTelles PLLC is here to help. We have the experience, knowledge, and tenacity to fight for your rights and freedom. Don't hesitate to see how our knowledge of Maricopa County courts, court personnel, and prosecutors in the area can benefit you.
Schedule your free case evaluation by contacting our firm today.