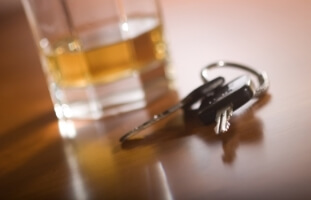 New Year's Eve is tomorrow night. This means plenty of parties and celebrating will occur. While we are all anxious to go out and have a great time, people must understand that because of the stigma associated with New Year's Eve, there will be an increase in law enforcement activity. What does this mean for people on the road? It means an increase in DUI checkpoints of which you must be aware.
Law enforcement officers know that a high number of individuals will be out partying and most likely drinking. For those who try to drive afterwards, these officers want to be ready with their DUI checkpoints. If you are planning on going out and drinking tomorrow night, keep a few things in mind.
Your Rights at a DUI Checkpoint
It is important to know what you are required to do and what you can decline when you are at a DUI checkpoint. By preparing for the DUI checkpoint, you stand the best chance of getting through and on your way. Keep in mind, if you have been drinking, our team encourages you not to drive at all. However, if you are stopped at a checkpoint, know that the officer is checking your behavior and ability to correspond with their requests. There are certain things you must comply with, but you may refuse to participate in field sobriety tests or breath tests. Know that refusing to provide a breath test can result in the suspension of your driver's license.
Avoid Reasonable Suspicion
Do not give the officer a reason to ask you to step out of the vehicle. Remain calm and composed throughout the matter. Suspicion is often what leads the officer to ask a driver to participate in field sobriety tests or breathalyzer tests. These are not always indicators of intoxication, and if you fail either of them, you may be arrested. Politely respond to the officer's requests and you shouldn't have to worry about additional tests.
Our team does not encourage drinking and driving. If you can, avoid driving at all costs should you decide to drink for New Year's Eve. At MayesTelles PLLC, we know how to defend your rights if you have been arrested. We know the defenses available to you and our Phoenix DUI defense attorneys work hard to help you reach the outcome you desire. Call us if you are arrested at a DUI checkpoint this New Year's Eve and we'll be there to help you.