Phoenix DUI Attorneys
When Your Future Is on the Line, Turn to MayesTelles
A DUI charge can be complicated and has the potential to negatively impact many aspects of your life, like your driving rights. It can also mean jail time, community service, and collateral consequences for your job. If you have been arrested for DUI in Phoenix or a surrounding area, you need to take immediate action.
At MayesTelles, we understand the urgency of getting legal help after a DUI arrest. We bring nearly 100 years of collective experience to the table and have handled thousands of criminal cases. Most importantly, we take the time to get to know our clients. If we take on your case, we will learn all we can about your situation.
The following advantages make MayesTelles the obvious choice:
Former prosecutor on your side
Nearly 100 years of combined experience
24/7 availability and access to your lawyer
Thousands of cases handled
Because of our dedication to our clients and their rights, our DUI lawyers in Phoenix have been able to secure positive outcomes for clients who have been charged with driving under the influence. We have won many victories where the charges were dropped completely or were reduced to lesser offenses. In one case we were able to acquire a dismissal for an individual who faced an Extreme DUI (.20 BAC) charge.
Contact our Phoenix DUI lawyers at MayesTelles today to discuss your options in a FREE consultation. We're available 24/7, so don't wait to give us a call: (602) 428-7104.
Types of DUI Cases We Handle
At MayesTelles PLLC, we handle all types and degrees of DUI charges, such as:
All DUI offenses in Arizona are considered misdemeanors, except for aggravated DUI. Aggravated DUI is the only offense that can be charged a felony. Whatever the case, our team is here to protect your rights.
You Only Have 15 Days to Save Your Driver's License
If you were charged with DUI, you are facing automatic suspension of your driver's license – which is separate from your criminal case. To contest the suspension of your driver's license, you have 15 days to petition for a hearing with the Arizona Motor Vehicle Department (MVD) after your arrest. The MVD hearing is a civil hearing concerning the state of your driving privileges, and is your only chance to save your license.
MayesTelles can represent you at your MVD hearing and contest the suspension of your license.
Reasons Why You Should Hire a DUI Lawyer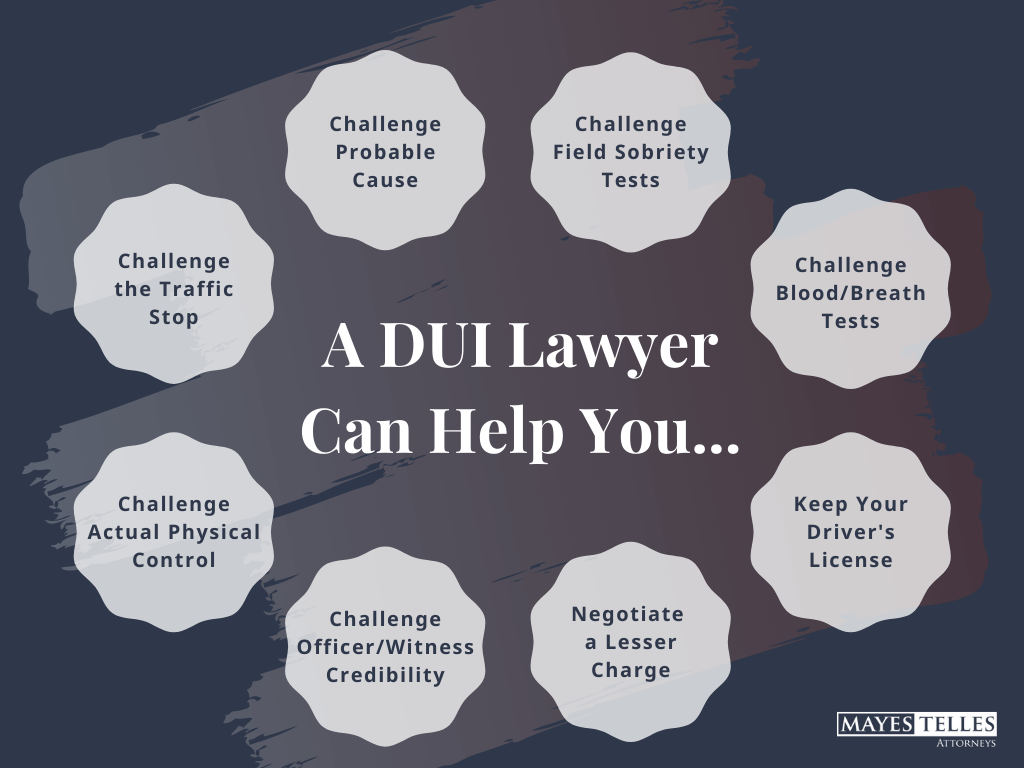 To Challenge the Stop
Police must have reasonable suspicion to conduct a traffic stop. Oftentimes that reasonable suspicion is based on an officer's perception (for example, speeding, following too closely, failing to maintain your lane, unsafe lane change, etc.) rather than hard facts. The attorneys at MayesTelles are trained to identify and challenge the basis for a DUI stop and determine whether or not it was reasonable.
To Challenge Probable Cause
Once you are pulled over for DUI, an officer must establish probable cause to arrest you. Probable cause can be based on admissions to drinking, the odor of alcohol, observations regarding your eyes, speech, balance, and other factors. These factors are often based on an officer's perceptions. The lawyers at MayesTelles know how to identify and challenge whether there was probable cause to arrest you.
To Challenge the Field Sobriety Tests
If you performed field sobriety tests, the officer will have made judgments on your performance and included those in his or her report. No matter how well you think you performed or may actually have performed, officers are predisposed to interpret results to suit their goal – which is to arrest you. The attorneys at MayesTelles are experienced in challenging the officer's conclusions regarding your performance on field sobriety tests as well as the nature of the tests themselves.
To Challenge Blood/Breath Testing
Whether you gave a breath or blood sample after being arrested for DUI, it is important to re-test that sample, analyze the circumstances under which it was handled, transported, and tested, and check that all testing equipment was working properly. Our team at MayesTelles is familiar with the weaknesses in the testing process and know how to challenge those weaknesses when they appear.
To Challenge Actual Physical Control
In some cases, individuals are arrested and charged with DUI when there are no witness that could put the driver behind the wheel. Oftentimes, those arrests are based on admissions, circumstantial evidence regarding who was driving, or other factors. When those circumstances arise, our attorneys know how to make the government bear the burden of proving that you were driving under the influence.
To Challenge Officer/Witness Credibility
For every officer patrolling the streets, there is an officer personnel file. Sometimes, obtaining and reviewing that file can result in a basis to challenge an officer's credibility and the statements and conclusions he or she has made about you in a police report. The attorneys at MayesTelles investigate officers and witnesses and their backgrounds and raise challenges when they are available.
To Negotiate a Lesser Charge
Sometimes the evidence is there, dismissal on a constitutional or technical basis is unlikely, and you are likely to lose your DUI case at trial. Even in those situations, our lawyers are often able to negotiate a result that is better than a conviction at trial; for example, a plea to reckless driving or a less serious DUI charge. Many of these techniques can only be employed by an experienced DUI attorney.
To Keep Your Driver's License
A DUI arrest will inevitably result in the suspension of your license unless you request a hearing with the MVD and successfully challenge the arrest. A conviction for DUI can result in the revocation of your license and the need to reapply for a license, be screened for reinstatement, and pay significant fees throughout the process. Our firm knows when and how to challenge a license suspension and how to navigate the system to minimize your risk of losing your license for a prolonged period of time.
To Take Every Possible Step to Protect You
Being charged with a DUI offense can be a scary proposition. Most DUI offenders have no prior record and are unfamiliar with the criminal court process. Every case is different. The legal team at MayesTelles knows how to evaluate your needs, evaluate your specific goals, evaluate your unique case, and employ the best possible strategy to avoid or minimize the consequences of your DUI arrest.
Can I Refuse to Take a Field Sobriety Test?
When a law enforcement officer believes that a driver is under the influence of drugs or alcohol, they will conduct a number of preliminary tests to help determine the driver's level of impairment. Arizona is an "implied consent" state, which means that drivers are required to submit to chemical testing (i.e. a breath, blood, or urine test) if they are suspected of DUI; however, this does not apply to field sobriety tests.
You have the right to refuse a field sobriety test, but refusal to submit to a chemical test after a DUI arrest would result in automatic suspension of your driver's license. You should also keep in mind that, even if you refuse to perform a field sobriety test at the officer's request, they can still detain you and take you in for a chemical test. At this point, you could not refuse to submit to testing without facing consequences.
Standardized Field Sobriety Tests (SFSTs)
While the National Highway Traffic and Safety Administration (NHTSA) has established rules and regulations regarding the procedures for administering field sobriety tests, they are not foolproof by any means. Usually, the results of the tests depend on the officer and can be biased to provide reason for the arrest.
Horizontal Gaze Nystagmus – the officer will use an object (such as a pen) and ask the subject to track the object from left to right with their eyes, looking for involuntary jerks or blurriness.
Walk and Turn – the officer will ask the subject to take nine heel-to-toe steps forward and then turn back and do it again. If they stumble or deviate from the instructions, they may be intoxicated.
One-Leg Stand – the officer will ask the subject to stand with their feet together and raise one leg six inches off the ground until they are told to stop. If they fall or waver, they may be intoxicated.
At MayesTelles PLLC, we have attorneys who used to be prosecutors. This means they have insight into the opposition's argument, which is not something every lawyer can offer. If you have been charged with DUI, allow our attorneys to fight for your rights. It is important for you to understand that field sobriety tests are not scientific; they are subjective and can have flaws. We can find holes in the prosecution's case.
Our DUI Attorneys in Phoenix Are Available 24/7
A DUI conviction can be highly detrimental to all aspects of your life. Even a first-time offense can lead to severe fines, time in prison, license suspension, and an IID restriction. Not only that, but insurance companies are more likely to increase their premiums because of the charge. If you are facing DUI charges in Arizona, you need someone who thoroughly understands the legal system to be on your side. Our lawyers can represent you effectively and fight to make sure that one mistake does not tarnish your record.
We are available 24/7 and offer free evaluations. Call (602) 428-7104 to take the first step.
For a Free Review of Your Legal Matter, Contact our Phoenix Criminal Attorneys Today 24/7!